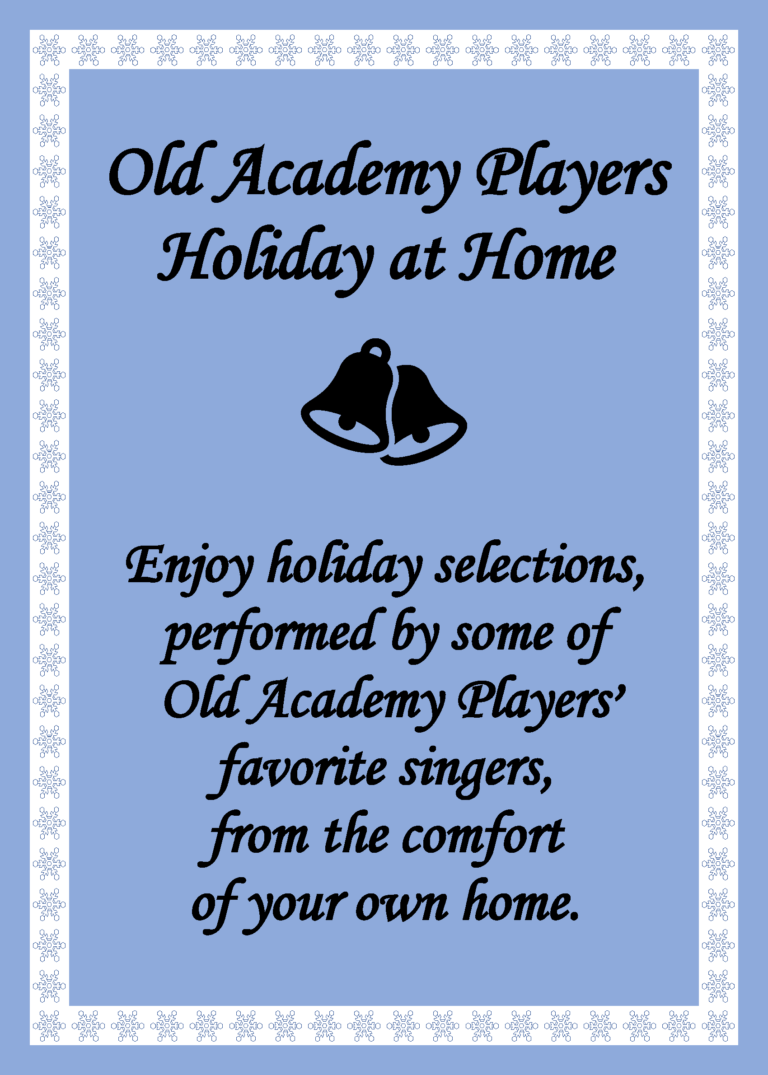 Directed by Annie Hnatko; accompaniment by Brian Padla
Available online from December 1st through December 29th, 2020

Through a partnership with ShowTix4U.com, Old Academy Players At Home has expanded our offerings to include pieces and performances that could not be shared on YouTube. Once you've made a purchase from ShowTix4U.com, you will be able to view the piece as many times as you like for 48 hours, on one device at a time.
Enjoy a selection of holiday music sung by some of our favorite Old Academy Players performers.
| | PERFORMER | SONG | COMPOSER |
| --- | --- | --- | --- |
| 1 | Gina Schwoerer | The First Noel | John Stainer |
| 2 | Kristin Hegel | My Favorite Things | Rogers and Hammerstein |
| 3 | Josh Tull | It Came Upon a Midnight Clear | Richard Storrs Willis |
| 4 | Dana Corvino | We Need a Little Christmas | Jerry Herman |
| 5 | Durell Griffin | What Are You Doing New Year's Eve | Frank Loesser |
| 6 | Michalina Goral | O Come O Come Emanuel | Thomas Helmore |
| 7 | Jamaal White | Holly Jolly Christmas | Johnny Marks |
| 8 | Loretta Lucy Miller | Silent Night | Franz Gruber |
| 9 | Annie Hnatko | The Little Road to Bethlehem | Michael Head |
| 10 | Melissa Neilson | Prince of Peace from Christmas Eve and Other Stories | Trans-Siberian Orchestra |
| 11 | Durell Griffin | White Christmas | Irving Berlin |
| 12 | Kristin Hegel | The Christmas Song | Robert Wells and Mel Torme |
| 13 | Gina Schwoerer | O Holy Night | Adolphe Adam |
| 14 | Brian Padla | I'll Be Home For Christmas/Have Yourself a Merry Little Christmas | Walter Kent and Hugh Martin |
| 15 | Jamaal White | You're Mean One, Mr. Grinch | Albert Hague |
| 16 | Michalina Goral | In the Bleak Midwinter | Gustav Holst, Arr. William Branston |
| 17 | Dana Corvino | Winter Wonderland | Felix Bernard |
| 18 | Annie Hnatko | Virgin's Slumber Song | Max Reger |
| 19 | Josh Tull | Believe (Polar Express) | Glen Ballard and Alan Silvestri |